Market Review - 15/05/2010 01:22GMT
Euro tanks on growth fears and breakup concern

The single currency penetrated last week's 14-month low of 1.2510 in Europe yesterday and tumbled below 1.2400 for the first time since November 2008 on lingering worries that austerity plans required by the EU/IMF 750 billion euro bailout package would stifle an 'already-weak' recovery in the 16-nation eurozone. Previous day's comments by Former Fed Chairman Paul Volcker that he was concerned the euro area may break up while ECB's Weber said dangers were still in the financial system and such risk should not be underestimated. German Chancellor Angela Merkel's comments that Europe is in a 'very, very serious situation' continued to weigh on the euro throughout European and U.S. sessions.

Euro bashing pressured the single currency on Friday as the pair was sold on every intra-day rebound. Despite brief bounce to 1.2576 near European opening on short-covering, euro tumbled again and fell below 1.2510 to 1.2432 in European mid-day. Although euro managed a modest recovery, renewed selling at 1.2534 pushed the single currency lower again and price nose-dived to a fresh 18-month low of 1.2354 in NY afternoon. Cross-selling in euro also weighed on price as eur/jpy plunged from 117.02 to 113.50 while eur/gbp fell sharply from 0.8620 to 0.8496. In other news, report showed French President Nicolas Sarkozy once threatened to pull out of the euro during the negotiation which led to the aforementioned bailout. In addition, Greece would submit a deficit-cutting progress report to EU this coming Saturday.

Although the British pound fell sharply from 1.4640 to as low as 1.4496 in tandem with euro on Friday, cross buying in sterling versus the single currency somehow limited cable's intra-day downside, the pound was more resilient than euro to selling pres sure and gyrated inside aforesaid range in NY session as the market focus on Friday was euro instead of cable.

Yen rallied across the board as Greek debt crisis sparked major broad-based risk aversion again, prompting investors to dump riskier assets like commodity currencies, stocks, oil and other commodities for yen and dollar as safe haven currencies, gold fell $30 from fresh record high of $1248.80 to $1218.10. Aud/jpy tumbled from 83.41 to 81.42 while gbp/jpy fell from 136.05 to 133.24 and usd/jpy also slumped from 93.10 to 91.80.

European and U.S. bourses all suffered heavy losses on Friday, FTSE closed down 3.15%, DAX down 3.12%, CAC 40 down 4.59% whilst DJI closed down 1.51% and S&P 500 down 1.88%.

Economic data to be released next week include : U.K. Rightmove house prices, Japan Domestic CGPI, U.K. CBI industrial trend, U.S. Empire state mfg., Net LT TIC flows and NAHB housing mrkt index on Monday, Japan Tertiary industry index, Consumer confidence, Machine tools orders, U.K. CPI, Germany ZEW index, EU Trade balance ,HICP, U.S. Building permits and PPI on Tuesday, Japan Capacity utilisation, Industrial production, Canada Wholesale sales, U.S. CPI and FOMC minutes on Wednesday, Japan GDP , Germany PPI, U.K. Retail sales, Canada Leading indicators and U.S. Leading indicators on Thursday, Japan Leading indicators, Germany GDP, PMI, EU PMI, Germany Ifo index, EU Current account, Canada CPI and Retail sales on Friday.


Weekly Technical Outlook on EUR/USD
Update time: 16/05/2010 23:40 GMT

EUR/USD - 1.2367.. Despite staging an impressive short-covering rally fm 1.2790 to 1.3095 last Monday after the announcement of an enormous 750 bln euro stability measure forged by EU/IMF to help eurozone countries to tackle their debt problems, euro bears quickly emerged, the single ccy remained under pressure on 5 consecutive days n penetrated May's 14-month low of 1.2510 on Friday n tumbled to a 19-month low of 1.2354.

Look at the chart, as daily indicators are still pointing hard down, sug- gesting MT downtrend fm 1.5145 (Nov 09') wud re-test Oct 08' low of 1.2329, below wud extend twd 1.2134, being a 'natural' 50% r of the LT rise fm 0.8228 (2000 low) to 1.6040 (Jul 08'), however, reckon psychological sup at 1.2000 wud hold on 1st testing n bring a much-needed minor correction later this week.

Today, euro extended Friday's downtrend to a fresh 2010 low of 1.2339 in NZ n as long as res area at 1.2432/39 holds, weakness to 1.2300 is seen, however , o/sold condition wud limit weakness to 1.2282, being equality measure. of 1.26 85-1.2432 proj. fm 1.2535. Abv 1.2450 may risk recovery to 1.2500/10 b4 down.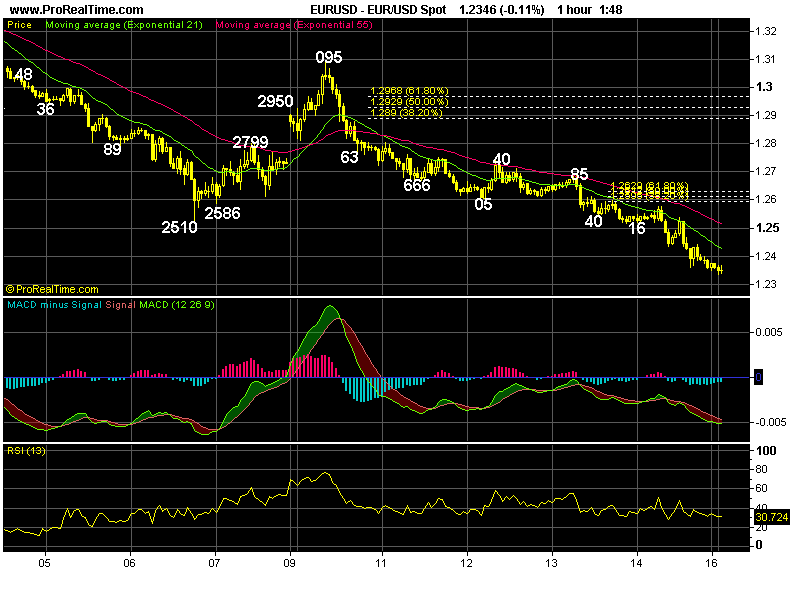 Click here to enlarge chart

Weekly Technical Outlook on USD/CHF
Update time: 17/05/2010 00:11 GMT

USD/CHF - 1.1350..Euro's resumption of its MT downtrend Friday helped dlr to penetrate this month's 2010 high of 1.1245, price climbed to 1.1336 in NY n then rose to 1.1356 in Asian trading, suggesting the erratic uptrend fm 0.9910 (Nov 09') wud push price to 1.4424/25 soon, being 100% measurement of 0.9910-1.0 899 measured fm 1.0435 as well as 61.8% proj. of intermediate rise fm 1.0435 to 1.1245 measured fm 1.0924.

Looking at the daily chart, the early rally abv 1.0899 (Feb 24 high) sig- nals aforesaid rise fm 0.9910 has resumed, upside targets are pointing at 1.1424 , then 1.1657 (1.236 times extension of 0.9910 to 1.0899 fm 1.0435), the rising daily indicators add credence to this bullish view, however, chf's strength on crosses esp. vs eur shud prevent strg gain beyond there th is week.

Today, intra-day dlr's broad-based rally (except vs yen) suggests the pair shud ratchet higher twd 1.1386 (61.8% r of 1.2298-0.9910), as the hourly oscilla tors readings wud be in o/bot territory on such move, reckon 1.1424/25 wud hold on 1st testing. Only below 1.1245 confirms temp. top n risks 1.1190/95 b4 up.